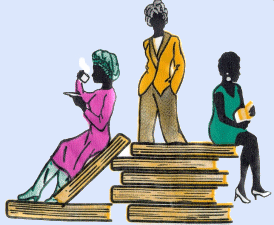 EFFECTIVE 09/24/04 SISTERS SIPPIN TEA HAS MOVED TO ITS NEW SITE PLEASE GO TO WWW.SISTERSSIPPINTEA.COM
Sisters Sippin'Tea we are...
We travel distances both near and far...
To talk about the books that we have read
Some come along just to bond instead.
What ever the reason we gather together
A book is discussed; no matter what the weather.
The critics are varied arguments are few
Cause we're some reading sisters that know what to do!
After we discuss the book and all is said,
We get to see what the hostess has for a spread-
So see it's lots of fun with my sisters and me,
We are the "core" chapter of Sisters Sippin' Tea.
THANK YOU for stopping by and visiting with the Sister Sippin Tea chapter located in Houston, TX. The Houston chapter was founded in 1992 by Wilhelmenia Williams and Karen Brown. Sisters Sippin' Tea is made up of a variety of women who LOVE TO READ. The Houston chapter of Sisters Sippin' Tea is currently 15+ members strong. Sisters Sippin' Tea Houston chapter meet the months of September thru May. We have chapters throughout the United States as well as one in Cairo, Egypt.

The book we are reviewing for September 2004 are Leslie by Omar Tyree

and The Secret Life of Bees by Sue Monk
Previous books and the rating we gave them.
Pictures of the Sippin' Sisters in action.
Links of Sisters Sippin' Tea Chapters Across the U.S.
Events in and around the Houston area.
Poems written by Sisters Sippin' Tea

COMING SOON! WE WILL BE MOVING TO OUR NEW SITE IN SEPTEMBER PLEASE CHECK BACK FOR MORE INFORMATION. If you are interested in becoming a member of the bookclub please email us at sisterssippintea@hotmail.com and one of the members will be sure to get back with you. Also please be sure to sign our guestbook.
Number of people who have stopped by to check out the Sisters Sippin Tea Webpage

View My Guestbook
Sign My Guestbook